What makes us different?
For us, a funeral is a celebration not a mourning. It's a chance to capture the personality, legacy and experiences of your loved one and to create a lasting memory that they deserve. So as well as providing a bespoke and dignified goodbye, we want it to honour their life and everything about it that made it unique.
Affertons is a proud, independent company formed in 2013 to provide personalised and competitive funeral services in the Dundee area. Between them, funeral directors Paul and Ronnie have decades of experience, many contacts and the trust and admiration of the Dundee community. The business was built up on this knowledge and trust to become the popular choice it is today.
And while we like to celebrate our history, we love looking forward to. At Affertons you'll find a business that moves with the times to answer the demands of the public's growing, changing needs for a funeral that truly matters.
Meet the Team
A funeral director is there to provide guidance, advice and emotional support at a difficult and busy time. It's up to them to listen and help shape a unique experience. No two services are the same, and nor should they be.
Paul and Ronnie, Affertons' funeral directors, are renowned in the business for their knowledge and understanding. They deal with people from all walks of life and with a variety of beliefs and faiths. They're here to make sure you can pay your respects in a meaningful and appropriate way.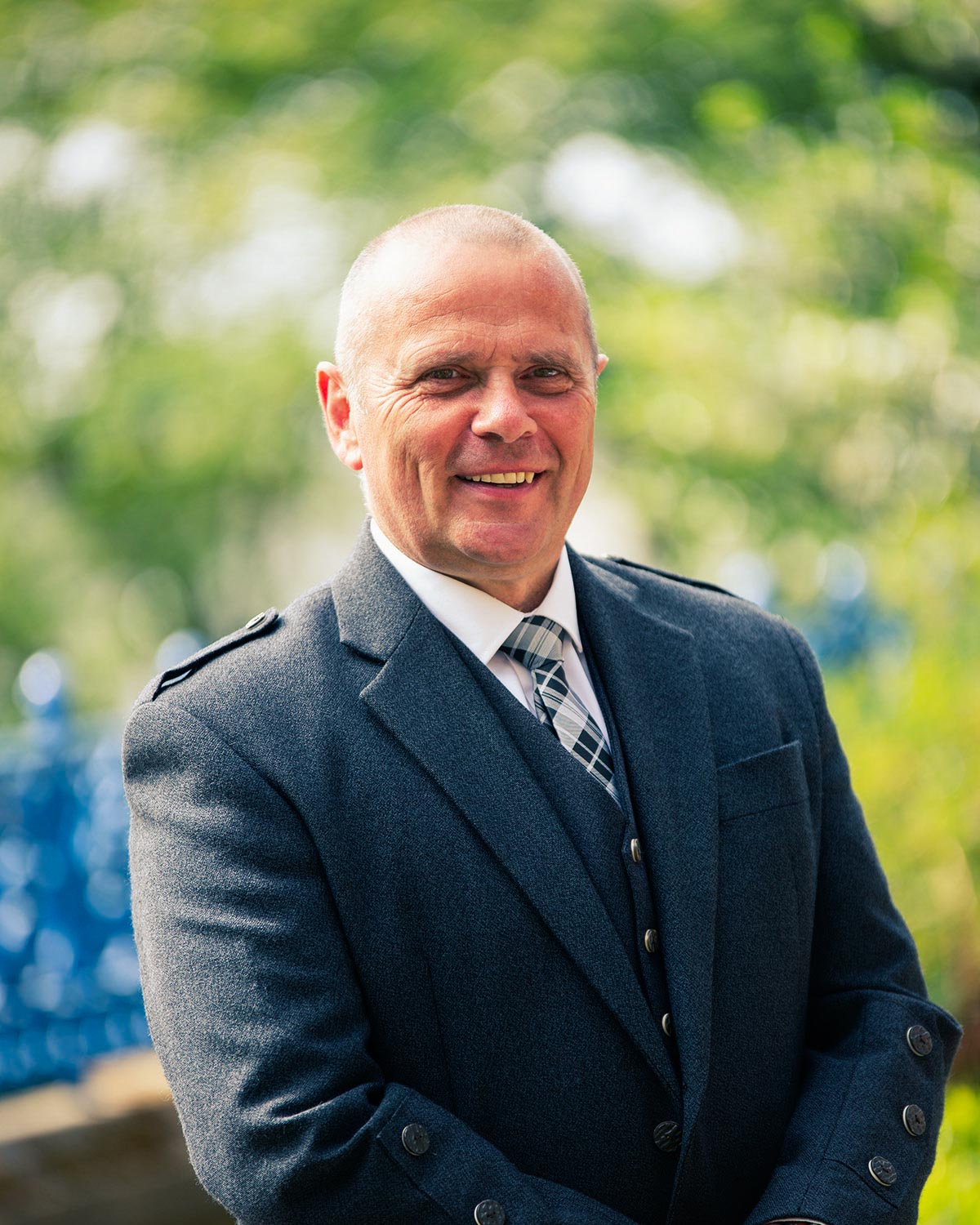 "Dundee born and bred, I've lived locally most my life. I left school in 1977 with a handful of 'O' levels and one higher and was railroaded into my first job by a good friend who managed a local butchers. I quickly felt restless and moved on – for the next 20 years amassing a CV across a variety of jobs; Taxi Driver, Fisherman, HGV driver, and Derrickman to name but a few. In summary, I'm a normal down to earth working class man.
In 2003 I found my true vocation when I started working at a local funeral directors. I found the urge to help others in need came as a basic human instinct and worked there for ten years. To help people, in their greatest times of need for understanding and support, is something I found immediately natural and rewarding. Meeting, talking and more importantly listening is at the heart of funeral directing. To offer reassurance, support and guidance is what Affertons Funeral Care (and myself personally) are all about."
"I was born in Dundee and have spent my life there. Before joining Affertons I worked with another funeral directors for just short of 25 years. I've encountered most things to do with funerals –  I don't say everything because you're always learning and there will always be a first for something!
"What do I love about the funeral profession? I enjoy the interaction with the public and seeing the satisfaction the family receive when things are over. I first got into the profession in 1977 when I took on a job at Ninewells Hospital as a post-mortem technician. I carried out post-mortem examinations for the hospital and with Dundee police at Dundee Royal Infirmary. I moved from this job to Dundee University, where I was involved with the embalming of people who had donated their body to medical research. When I took my Embalming Certificate I gained the highest mark in Britain for that year, winning me an award from the British Institute of Embalming. Having that embalming qualification means families who wish to view for longer periods can do that.
"Running alongside this work adventure, I have been involved with various levels of football. I turned to Senior football at Brechin City when I was 17, from a local under-age football team, Lochee Boys Club, and from there, I transferred to Forfar Athletic, where I scored against Glasgow Rangers at Ibrox."
"Such great people – friendly and more than helpful. They made everything so much easier on me and my family throughout the whole experience." – B.K.
"Our family will always be grateful for the help Affertons gave to us during this hard time." – K.S.
"These guys are just so friendly and professional, there isn't much else to say." – A.M.
What's on your own funeral wishlist?
Let's face it: most people don't like to think about funerals until they have to. And when someone passes away, too often families are unprepared. That's why we encourage you to take the burden you're your loved ones and start preparing now.
Think about the tone, theme, music and style of how you'd like your life to be celebrated. Let us know opposite and we'll give you a free consultation to discuss them, then keep your details on file.